---
MUNDUS ACP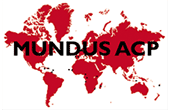 The MUNDUS ACP Project is a partnership established between European and several ACP Countries' Higher Education Institutions (HEIs) and HEIs Associations, within the framework of the Erasmus Mundus, Action 2 – STRAND 1, Lot 15, ACP Countries.
Among this initiative's main goals, one can point out:
The mutual enrichment and a better understanding between Europe and the ACP Countries, through the exchange of people, knowledge and skills at Higher Education level;
The increase of international cooperation between European and ACP Countries' HEIs, thus contributing to foster the socio-economical development of this region;
The promotion of transparency and recognition of studies and qualifications at an international level.
As a way of reaching these goals, this Project foresees:
Students (Master and Doctorate) and Academic and Administrative Staff's mobility from the ACP Countries willing to develop their activity in an European Partner University.
Academic and Administrative Staff from Europe who wish to develop their activity in an ACP Partner University.
According to the Guidelines of the Erasmus Mundus Programme, the mobility flows within the scope of this Project are possible in the 16 study fields.
The selected applicants of this Project will receive a monthly scholarship, according to the type of mobility they will carry out.
The MUNDUS ACP Project also foresees the payment of tuition fees, travel costs to and from the host country and a health, travel and accident insurance.
Website: http://mundusacp.up.pt