---
COOPEN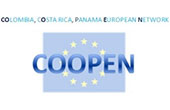 COOPEN is a EM ECW partnership of European, Colombian, Panamanian and Costa Rican Higher Education Institutions (HEIs) and Associations aiming at fostering mutual enrichment and better understanding between the EU and Latin America, through the exchange of persons, knowledge and skills at higher education level and the co-operation in the following programme activities:
Mobility of European students.
Mobility of Colombian, Panamanian and Costa Rican students.
Post-doctoral mobility.
Academic staff mobility.
The main objective of COOPEN is to promote higher education cooperation between the European Union and Latin America (Lot 21b: Colombia, Costa Rica and Panama) through student and academic mobility for the purpose of studying, teaching, training and researching. COOPEN aims at providing improved education and training opportunities for vulnerable groups and socioeconomically disadvantaged students. COOPEN's proposal and expected results fully comply with the objectives of the Call by enhancing relationships within partner countries and by meeting the particular needs and constraints of the target groups and the regional needs of Third-countries.
Website: http://coopen.upv.es