CARPIMS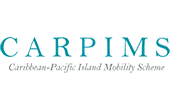 The CARPIMS Programme is a cooperation and mobility programme in the area of Higher Education, implemented by the Education, Audiovisual and Culture Executive Agency (EACEA) of the European Union (EU).
The project is designed to facilitate the movement of Masters students, PhD students and Staff between selected national Universities in the Caribbean and Pacific regions as a means of building capacity and encouraging socioeconomic development in each region.
The project will focus on postgraduate education and research as a means of strategic capacity development by making available a wider variety of postgraduate degrees and research opportunities to students from each region and country.
These mobility activities will increase the competitiveness and attractiveness of the participating Higher Education Institutions towards the ultimate aim of encouraging 'brain gain' rather than 'brain drain' within each region.
Participants will study, research and explore Caribbean and Pacific solutions for Caribbean and Pacific challenges. This will inevitably create a cadre of trained, open minded and globally oriented individuals who can serve as foundational resources in developing new disciplines / competencies for their respective countries.
The selected applicants of this Project will receive a monthly scholarship, according to the type of mobility they will carry out.
Website: http://www2.sta.uwi.edu/carpims/